How the HEMOdialert™ alarm works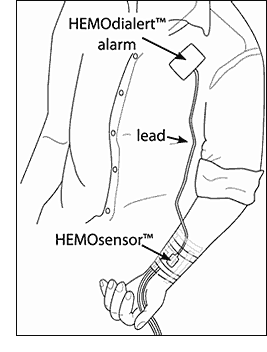 HEMOdialert™ with HEMOsensor™
The HEMOdialert™ alarm and HEMOsensor™, will detect a blood leak from the fistula site of less than 1mL in 1 to 2 seconds or less1. They can can also detect other body fluids such as perspiration.
The HEMOsensor™ is a unique, patented, injection moulded, plastic, reusable sensor. It is placed over the fistula site and taped in place. It is impervious to blood and other fluids and so can be reused after cleaning with alcohol or any proprietary antibacterial/antiviral cleaner (avoid bleach, this will damage the special plastic).
The HEMOdialert™ alarm responds to small amounts of blood on the HEMOsensor™, by emitting a loud alarm at approximately 3.3 kHz, a frequency that has been established as one to which the human ear is especially sensitive2.
For additional safety, when the HEMOsensor™ is plugged into the alarm for use, the alarm beeps to indicate that the battery level is sufficient to power the circuit. If during use the battery power reduces below a predetermined level (this has been established with a high degree of safety with regard to battery power required to operate the alarm), then the alarm will beep at 10 second intervals to warn of the need to replace the batteries.
While the HEMOsensor™ is reusable, over time (e.g., after 6-9 months), the flexing of the wires may require it to be replaced. For this reason a spare sensor is supplied with the package.
Safety and Usability
The HEMOdialert™ has been tested for performance3. In a clinical environment it meets electrical, mechanical and ergonomic safety requirements for the user4 5, and conforms with electromagnetic compatibility6. It is also designed for ease of use7.
Full instructions come with the HEMOdialert™.